Research Launch webinar: "Structured Chaos": how nonprofits in conflict settings became an economic sector
November 14 @ 2:00 pm

-

4:00 pm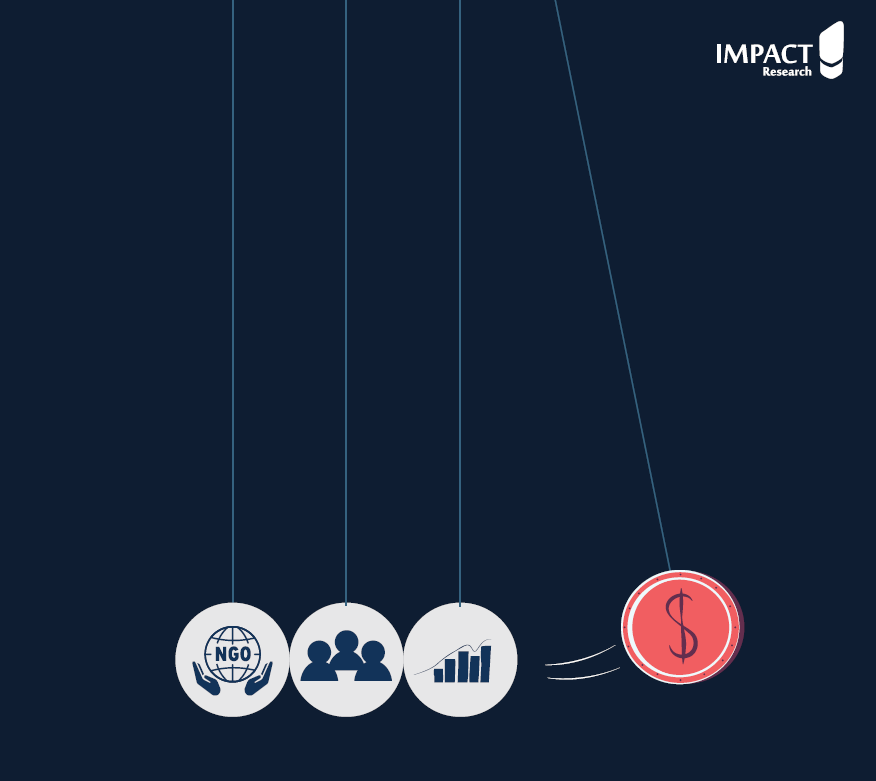 The research team and experts will be discussing the findings of the research in a webinar on November 14th, at 2pm CET (8am EST)
Research page : https://impactres.org/economics-of-nonprofit
Speakers
Dr. Joseph Daher:
Completed a Doctorate in Development Studies at SOAS, University of London (2015), and a Doctorate in Political Science at Lausanne University (2018), Switzerland. He currently teaches at Lausanne University and is a part-time affiliate professor at the European University Institute, Florence (Italy) and participates in the "Syria trajectories: "Challenges and opportunities for peace building" project. He is the author of Hezbollah: Political Economy of Lebanon's Party of God (Pluto Press,2016) and Syria After the Uprisings: The Political Economy of State Resilience (Pluto Press 2019).
Mouayad AlBonni:
a researcher and consultant with multiple organizations on conflict, economic, development, and humanitarian issues. He holds a master's degree in Global Human Development from Georgetown University, Washington D.C.
Zaki Mehchi:
a policy fellow LSE's Conflict and Civicness Research Group (CCRG), associate fellow at Chatham House, a researcher at the Peace and Conflict Resolution Evidence Platform (PeaceRep) and a co-founder of the Syrian Center for Policy Research. Mehchy's work focuses on development policies. He has conducted research on socio-economic impact of the conflict in Syria, poverty and multidimensional deprivation, labour force, local governance, and community empowerment. Zaki obtained a Diploma certificate in International Economic Relations from Damascus University. He has MSc in International Economics from the University of Essex, UK.
Experts: 
Dr. Dina Melhem, National Agenda for the Future of Syria, ESCWA.
Dina Melhem has over 18 years of experience in democratic development, public policy making in countries in democratic transition, and conflict and post-conflict settings. Dina is the leading the National Agenda for the Future of Syria Programme at the United Nations Economic and Social Commission for Western Asia (UNESCWA).  Dina studied law and holds a PhD in International Public Law from the Paul Cezanne University in France. Dina has held many positions at the Westminster Foundation for Democracy (WFD) in the United Kingdom between 2006-2021. Until 2021, She was WFD's Regional Director MENA and Senior Human Rights Advisor. Dina's principal field of expertise is governance and conflict resolution, including public policy evaluation, supporting parliaments and decision makers, expertise in legislative drafting and analysis, financial oversight, political and socio-economic analysis, as well as her extensive expertise in Human Rights, women's empowerment, and gender-based violence. Before joining WFD, Dina was a Research Fellow at the Institute of Arab and Islamic Studies in France and was heavily involved with research on the League of Arab States, International Human Rights Law, and Islam and Human Rights as part of her doctorate research
Wolfgang Gressmann
is the Chair of the Steering Board for the Aid Fund for Northern Syria (AFNS). An independent consultant, he specialises in humanitarian leadership, strategy development, programme management, and research. Mr. Gressmann has been an active supporter of the Syrian response since 2012, holding senior leadership positions with various organisations such as CARE, Save the Children, NRC, Mercy Corps, IRC, and the IFRC. Additionally, he has led programme evaluations for several NGOs operating in Syria. He is a graduate with a Master's degree in Sociology and Political Sciences from the University of Hamburg, Germany
Omar Abdulaziz Hallaj
is an independent consultant on urban planning, development and local governance. He co-founded and participated in various Syrian dialogue platforms and in preparing social, gender, peace building, civil society and early recovery related research on Syria. His professional and published research covers institutional, financial and political aspect of the urban built environment; housing, land and property (HLP); and the war economy. Formerly, he was the CEO of the Syria Trust for Development, and served on the boards of several NGO's, and public commissions. He contributed to the creation of the Al Wataniya Micro Finance Institution and chaired its first board of directors. In 2007, Mr. Hallaj was the recipient of the Aga Khan Award for Architecture as team leader of the Shibam Urban Development Project. He subsequently served on the master jury and its Steering Committee. He is currently a member of the Syrian Constitutional Committee as part of the civil society delegation.
Moderator:
Rafif Jouejati
Rafif Jouejati, the current President of Baytna's Board of Directors, has extensive political, humanitarian, and civil society experience in Syria. She also serves on the Board of Directors of The Day After and Nonviolence International. Rafif is also the co-founder and director of the Foundation to Restore Equality and Education in Syria (FREE Syria) and is a founding member of the Syrian Women's Political Network. A secular feminist, she has published analytical pieces and op-eds on Syria, including a chapter in the book The Syria Dilemma, and is a frequent media commentator and public speaker. Rafif is the CEO of a consulting company that helps client organizations evolve to higher levels of capacity and maturity through business development, targeted training, and strategic communication. She holds a Master of Arts in Strategic Communication and a Bachelor's in International Relations.
The event will be held in English and Arabic with simultaneous translation. 
Attendance is by registration only, please register here to receive the webinar link. 
https://us02web.zoom.us/webinar/register/WN_PE7IIQFWQvaOafJ1LyYdQQ